A range of stainless steel gully assemblies for finished floors are available for use, particularly in areas associated with food production, processing or preparation where corrosion resistance or minimum maintenance is a requirement.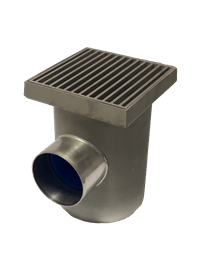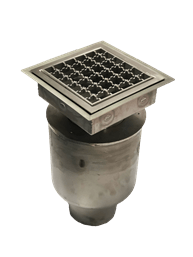 Available either as 200mm square body assemblies or 300mm body assemblies both with trapped 60mm seal. A wide choice of grating options to suit all applications.
A heavy duty Lorry Deck Gully and Trench Drain is also available.
Trapped - all Wade stainless steel body assemblies are trapped. Some versions can be supplied as non-trap if required.
Full-bore rodding access - available on all body assemblies except Q2334 (38mm) and Q2434 (90mm).
Side Inlets - (optional) are fully trapped.
Filter Buckets - (optional) to intercept debris
Choice of Gratings - including Perforated, Anti-Slip mesh, Plain mesh, Bar and Streamline.
Wade stainless steel outlets come in 304 as standard. For use in high specification applications including food preparation, showers and areas where high corrosion resistance is a requirement. In applications such as swimming pools or having an aggressive atmosphere, grade 316 is recommended and is available on request.
Stainless steel gratings
A wide range of grate options are available to suit all applications
Stainless Steel Grate options
A wide range of gratings for all applications, including:
192mm square gully for funnel access (U5232)
Smooth perforated (square apertures). Suited for bathrooms, shower areas etc (Q6230)
Bar grating (Q72 & Q73 series)
Streamline, heel-proof reverse wedge profile. Also suited for barefoot zones (Q92 & Q93 series)
Plain mesh. Established design with good loading characteristics (Q52 & Q53 series)
Anti-slip mesh. Double notched bars makes this grating suited for industrial / kitchen wet or greasy floors (Q42 & Q43 series)
Assembles and typical installations