Multi-purpose ABS Shower gullies for use in wet bathrooms and shower areas decked with flexible sheet flooring such as vinyl, of a thickness up to 3.5mm.
Available as either a vertical or horizontal outlet (50mm seal) with a choice of stainless steel or nickel bronze clamp collar and grating /  cover / funnel.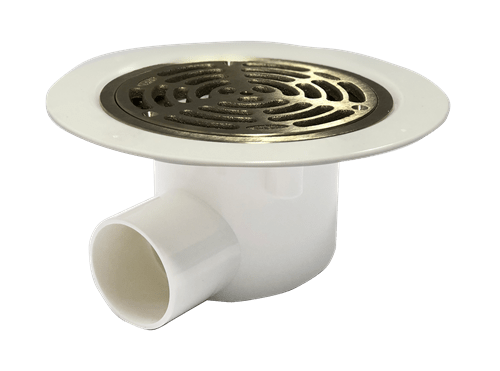 Watertight – clamping collar provides a water-tight seal between the flooring material and gully even when the grating is removed.
Water seal – formed by a bucket and dip tube, the water seal depth of 50mm complies with plumbing codes of practice in the U.K.
Flow rate – (grating and funnel versions) rate in excess of 40 l/min; comfortably exceeds the minimum rate of 24 l/min required by BS EN 274 for the discharge from a single shower head.
Vandal resistant – GV5007 secured grating has no visible fixings and is removable only upon depressing an unobtrusive lever.
Accessible – removable grating/cover/funnel and trap enable easy access from above for maintenance purposes.
Bucket – removable bucket helps to eliminate blockages and intercepts jewellery and other items which might otherwise be washed away.
Outlet – 50mm socket for solvent-weld connection to PVC pipework. Installation – ideally suited for installation in timber or concrete floors or where space is limited.
Quality – stainless steel or nickel bronze grating/cover/funnel with matt finish (GV5817 polished), combines durability, safety and good looks.
Body/dip tube/bucket – Plastic (ABS)
Grating/cover/funnel/clamping collar – Stainless steel or nickel bronze
Horizontal Shower Grate Types
Vertical Shower Grate Types
110mm spigot outlet with 50mm reducer
Assemblies & typical installations