The purpose of roof outlets is to provide effective drainage of rainwater. Selection of roof outlets is usually the responsibility of the specifying engineer conversant with the roof construction, roofing finish, drainage system and designated function such as a garden or parking. Some of the factors that should be considered when selecting roof outlets are given below.
Medium Sump cast iron roof drain outlets with choice of outlet size and connection type; with polycarbonate dome or sherardized cast or ductile iron grating.
Deep Sump cast iron roof drain outlets with choice of outlet size and connection type; with polycarbonate dome or sherardized cast or ductile iron grating.
Parapet Outlets - with reversible cast iron drain body to provide horizontal or vertical threaded outlet. May be used in conjunction with our downspout nozzles.
Balcony Outlets - cast iron, for drainage on balconies with an asphalt finish.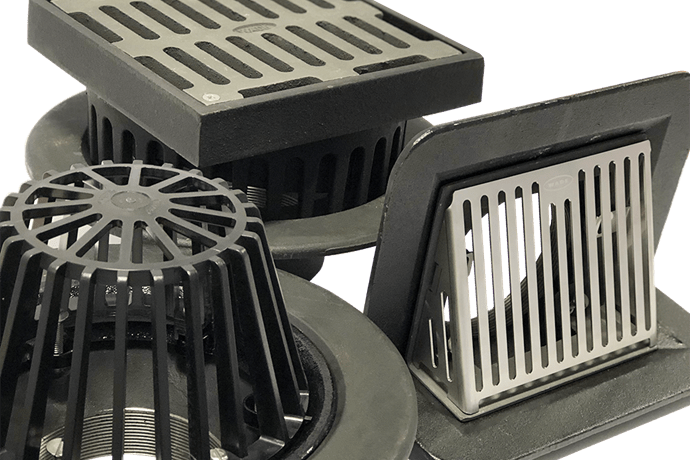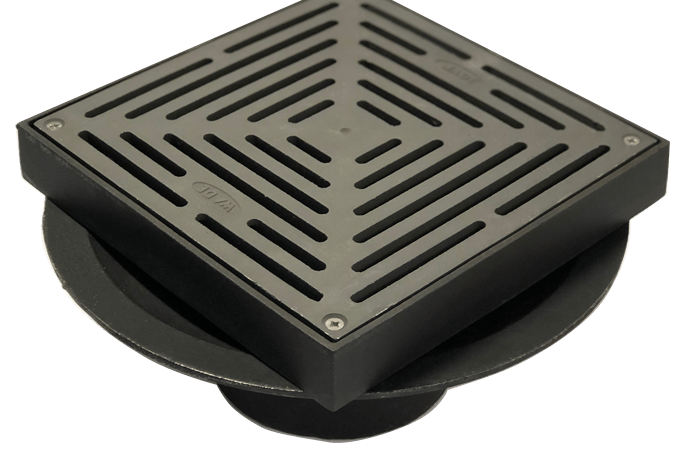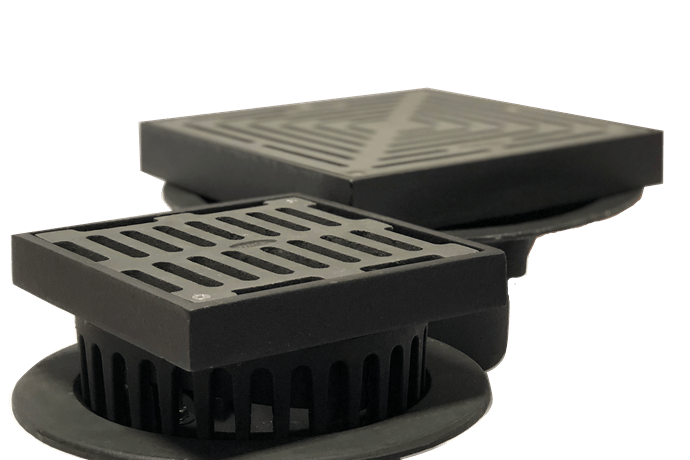 Building regulations/standards
Design of flat roof drainage should be in accordance with BS EN 12056-3, or other national/local regulations.
Roof construction
Roof outlets are not multi-purpose, versions are designed for use with specific types of roof construction.The depth of the structural slab, thickness and position of insulation, and the type and position of waterproofing membrane are factors to be considered.
Flow rate
BS EN 12056-3 uses localised rainfall data in l/s per m2 and takes into account the usage and design life of the building. The quantity and types of roof outlet to be used in a given application must be related to the roof area and expected volume of rainwater to be drained.
Flow rate is the amount of water (litres/sec) a roof outlet will drain at a given head; it is influenced by several factors:
Grating free area
Sump capacity
Design of the roof outlet
Outlet size, and accessories such as gravel guards and filter baskets
Flow rates of Wade roof outlets have been established by full scale tests, at various heads of water.
Load rating
It is essential that roof outlets withstand expected loads.
Based on BS EN 1253, as follows:
H1.5 Unused flat roofs such as felt-and-gravel roofs, gravel fill roofs and similar.
K3 Areas without vehicular traffic, such as balconies, terraces and roof gardens.
L15 Areas with light vehicular traffic.
M125 Areas with vehicular traffic, such as car parks, factories and workshops – not including light commercial vehicles or heavy wheel loads.
Materials and finish of Wade roof outlets, described below, are selected to provide lasting performance and to blend with surroundings.
The products require the minimum of maintenance, but periodic inspection should be carried out to ensure that roof outlets are free from gravel, leaves and other debris which could impair the performance of the system. Cast iron parts should be repainted every five years. 
Materials and finishes
Strength, corrosion resistance and appearance are important considerations when selecting roof outlets
Appearance
Whilst of pleasing appearance, gratings are designed to be relatively inconspicuous when installed. For areas where a better class of finish is required, some products are available in nickel bronze made to order.
Accessories and variations
Standard optional items are readily available, such as filter baskets to intercept debris, gravel guards, bearing pans to spread the load over a large area, and underdeck clamps to secure bodies. Custom made products can be manufactured for non-standard applications.
Thermal insulation
To prevent condensation in roofs of heated buildings where the relative humidity may be expected to rise above 40%, it may be necessary to install additional insulation around roof outlet bodies.
Materials and finish of Wade roof outlets, described below, are selected to provide lasting performance and to blend with surroundings.
ABS
Used for threaded pipework adaptors
Cast aluminium – BS EN 1706
Used for parapet gratings, an alloy chosen for its chemical resistance and durability.
Cast Iron – BS EN 1561
Used for bodies, membrane clamping collars, extensions and threaded pipework adaptors. A widely used metal in the drainage industry, its resistance to corrosion permits extended use under extreme conditions.
Castings are coated with a high grade lacquer paint, applied by full immersion dip, to provide internal and external surface coverage. Paint will gradually wear off and is replaceable; oxidisation (surface rusting) is a natural process which does not weaken the material.
Ductile iron – BS EN 1563 and BS EN 1564
Used only for gratings
A casting with the ductility of steel, yet with more than twice the tensile strength of cast iron. A zinc anti-corrosion coating is applied by sherardizing.
Galvanised mild steel
Used for adjustable bearing pans and raising tubes
A cost effective, corrosion resistant material.
Gunmetal – BS EN 1982
Used for downspout nozzles
A cast alloy of a rich, bronze colour.
Nickel bronze – BS EN 1982 Satin finish
Used for gratings
A cast alloy which will maintain its lustre when subjected to the abrasive polishing action of traffic.
The satin finish produces a fine grain effect which blends well with walls and floors. Note: Avoid covering nickel bronze items with plastic sheeting after installation, as blackening may occur.
Polycarbonate
Used for domes (supplied as standard)
A polycarbonate / ABS blend which offers durability, high impact strength and long term resistance to ultraviolet light.
PVC
Used for body versions for use with PVC single ply membranes
This material enables a waterproof joint to be produced on site.
Stainless Steel – grade 304
Used for gratings, domes, gravel guards, filter baskets and all fastenings. A corrosion-resistant metal containing significant amounts of nickel and chromium; AISI grade 304 stainless steel is used as standard, which is suitable for general use in and around buildings including most coastal locations. In applications such as swimming pools or having an aggressive atmosphere, grade 316 is recommended and is available on request.
An even higher grade may be required for applications in highly corrosive environments including where exposure to seawater may be anticipated. Clean with soap and warm water rinse and wipe dry. Gratings may also be cleaned in certain dishwashers. Under no circumstances treat with metal scouring pads, metal scrapers or wire wool as these will contaminate surfaces leaving rust spots.
Assemblies and typical installations.
These typical installation drawings serve to illustrate the general principal of how such assemblies are used.
Installations for Cold Roof
Installations for Warm Roof
Installations for Inverted Roof
Installation for Parapet Outlets
Installation for Downspout Nozzles
Installation for Balcony Outlets
Installations for Brown Roof Drainage