Within those Building Regulations, sits BS EN8579:2020 – A Guide to the design of Balconies and Terraces, which puts further emphasis on the importance of fire safety in the drainage design of balconies and terraces. It scrutinises the use of combustible materials, such as plastics, in their construction and stipulates that components used should:
Neither be composed of materials nor provide a medium for spread of fire.
Not propagate fire downwards by falling brands or flaming/molten droplets or debris.
Be designed to minimize the risk of becoming detached from the face of the building.
Minimize the risk of prejudicing the stability of the building from structural fire stress.
Alumasc Water Management Solutions is the UK's leading manufacturer of integrated non-combustible rainwater and drainage systems encompassing the entire building envelope. Its Harmer SML system is classed as non-combustible because it will not contribute significantly to a fire. Alongside the CE marking, BBA Agrément and Kitemark certification is the letter A and figure 1. This is the product's Euroclass fire safety classification.
Its outstanding fire performance is just one of Harmer SML's many attributes that make it ideal for soil and rainwater systems in all buildings, and in tall buildings in particular. Other advantages of cast iron include: its durability, its excellent acoustic performance and its impressive environmental credentials.
Drainage specifiers can take reassurance from the fact that cast iron systems are a proven technology having been in use for centuries. In that time systems have evolved so that today's cast iron systems offer a lightweight, economical, functional, and robust solution for tall building soil & waste and rainwater drainage systems. In addition, the quality of Harmer SML's above and below ground cast iron pipes and fittings is assured through compliance with BS EN 877 and Agrément certification for above ground BS EN-12056-2 Code of practice for gravity drainage systems inside building-Sanitary pipework and BS EN-12056-3 For drainage of roofs. For the below ground system: BS EN-12056-1 For drain and sewer systems outside building.

To connect pipe sections, Harmer SML pipe couplings are available in either ductile iron or stainless steel to meet the requirements of BS EN 877. All couplings feature EPDM elastomeric seals as standard, with neoprene seals available on request. Standard pipe couplings, fully secured and anchored, can usually withstand pressures of up to 5 bar. For applications where pressures can reach up to 16 bar, Harmer SML supply High Pressure Gripped Couplings, which are more than adequate for most building drainage systems.
Cast iron pipes are manufactured by pouring molten metal into a mould, which is then spun on its axis at high speed. Centrifugal force pushes the molten metal to the mould walls, which produces a casting that has uniform wall thickness and is denser and stronger than cast iron made using gravity alone. This gives the pipe an inherent strength to ensures that if it is hit, either accidentally or otherwise, the pipe is unlikely to be damaged.
This inherent strength also means that cast iron pipes and fittings do not deform under load. Similarly, the metal's rigidity and thermal stability ensures pipes are unaffected by temperature. In fact, the coefficient of thermal expansion of cast iron is low (at 0.0105mm/m/K), which is similar to that of concrete. Its thermal stability means there is very little differential movement in pipe systems, so expansion joints are not generally needed, saving on both space and cost. By comparison HDPE systems often require multiple expansion joints to be installed, which may require additional space and supporting brackets to attach the system to the structure.
Another benefit of cast iron is that it remains serviceable over long periods of time. Harmer SML pipes and fittings incorporate a two-part epoxy coating on its internal surface and an anti-corrosive primer on the exterior, to ensure an installation will require minimal maintenance during its lifetime. Its durability is what makes cast iron the ideal material for inaccessible and difficult to reach areas and for below-ground drainage, where its ability to resist chemical attack, degradation and ground movement are hugely beneficial.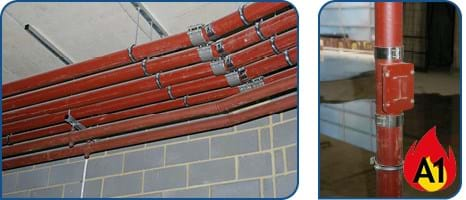 Above ground, the excellent acoustic properties of Harmer SML means that additional sound protection is not normally required to protect against noise breakout from fluids flowing in the pipework. This is important in all buildings and particularly so in high quality residential schemes, hospitals and high rise commercial. In addition, sound transmission through the structure also ensures pipework is not in direct contact with the structure. In comparison, HDPE systems often require specialist acoustic pipework and/or additional sound insulation, which can add to both material and labour costs.
While there are many technical, ecological and financial reasons to consider cast iron drainage, by far the most compelling reason is the material's superior performance in a fire. Cast iron is non-combustible, making it ideal for installation where drainage pipework has to penetrate a wall or floor in fire compartment. Cast Iron has the added benefit of requiring simple, low-cost fire-stopping in the annular space between the pipe and structure. In comparison, PVCu and HDPE pipework will require more expensive, high performing intumescent fire collars to be fitted to prevent fire breaching the compartment wall or floor when the plastic pipework inevitably melts.
It is reassuring to know that Harmer SML soil & waste and rainwater drainage systems have been rigorously tested and proven to achieve the highest possible fire rating under BS EN 13501 - the European standard for the fire classification of construction products. The complete system is compliance tested, including the pipe connections with their elastomer gasket couplings as well as associated fittings and coatings. Harmer SML Cast Iron pipe is classed as non-combustible and has an A1 fire rating to BS EN 13501-1.
Finally, in addition to its fire performance benefits, the environmental benefits of cast iron are increasingly being appreciated. It is a sustainable building material and has a longer lifespan than an equivalent installation in plastics which degrade over time. Cast iron is 100% recyclable and maintains its beneficial characteristics when recycled.